by Jund Rian A. Doringo
---
The internationalization of intellectual property (IP) applications leads the Technology Application and Promotion Institute of the Department of Science and Technology (DOST-TAPI)'s plan to meet the Sustainable Development Goals (SDG) by 2030.
This was revealed by DOST-TAPI Director, Atty. Marion Ivy D. Decena during the 89th Episode: Making Change Happen of the DOST Report hosted by Secretary Fortunato T. de la Peña on 07 January 2022.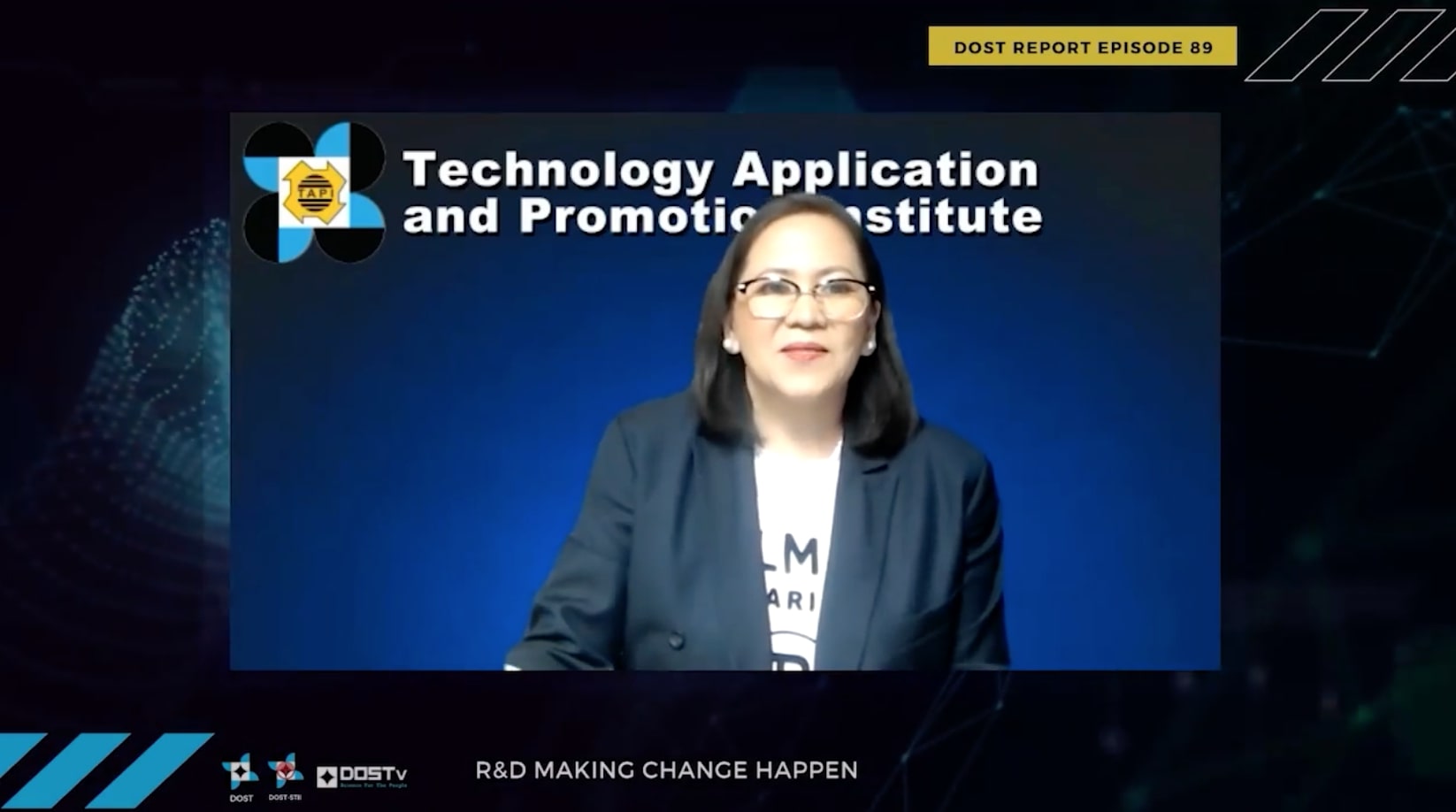 DOST-TAPI Director, Atty. Marion Ivy D. Decena talks about DOST-TAPI's contributions to making change happen during the DOST Report on 07 January 2022
By supporting IP portfolio management with a hundred percent real-time updates published on an in-house management system, DOST-TAPI guarantees the designing of services and operations to expand into the international markets.
"This is in line with our vision of becoming a strategic partner and advocate of invention and innovation in the country, and becoming a premier hub for the promotion of technology transfer and commercialization by 2030 and beyond," said Atty. Decena.
Aside from the internationalization of IPs, DOST-TAPI plans to fund spin-offs and startups for local or international markets, facilitate technology deals, and monitor the amount of upfront fees or royalties in the coming years.
"We also look forward to establishing regional and foreign hubs for IP, invent school, and pre-commercialization programs," added Atty. Decena.
In the long run, DOST-TAPI is positioned to become a venture capitalist or business stakeholder and partner institution to fund the commercialization activities of DOST technologies through programs on capital or income-sharing.
Through the years, DOST-TAPI has contributed to making change happen by filing a running total of more than a thousand IP protection including Patent Cooperation Treaty (PCT) applications at the Intellectual Property Office of the Philippines (IPOPHL).
IP protection is a crucial first step in the commercialization of research and development (R&D) outputs, because this provides researchers the full benefit of their innovation and further encourages R&D.
In 2020 alone even with the pandemic, DOST-TAPI filed a total of 451 IP applications.
The Institute also funds invention and innovation development to support prototyping, market testing, and pilot production.
Some of the notable examples that benefited from DOST-TAPI are R-TAP, an intelligent water supply and pressure management system, ozone-powered water purifying system, and Biotek-M Dengue Aqua Kit, a highly efficient confirmatory test for the diagnosis of dengue as well as Biotek-M Trio Kit, a confirmatory test that detects schistosomiasis, leptospirosis, and salmonella.
"Making change happens means making the first step in ensuring that innovative ideas are given the proper support so they could materialize into something useful for society," emphasized Atty. Decena.
With the initiatives of DOST-TAPI to become a self-sustaining Institute that continues to provide unique, innovative, and practical solutions as an investment partner, the Institute makes change happen towards PROGRESS.
Protection of IPs, Resolution of issues, Overseeing of the innovation system, Growing with stakeholders, Reinvention of programs, Entering the markets, and Savoring the Success!
For more information, please contact 8837 2071 to 82 local 2151 or email This email address is being protected from spambots. You need JavaScript enabled to view it..