by Karl Vincent S. Mendez
---
Closing this year's celebration of the National Women's Month, the Technology Application and Promotion Institute of the Department of Science and Technology (DOST-TAPI) culminated the series of activities for gender equality and women empowerment on 29 March 2022.
Organized by DOST-TAPI's Gender and Development Focal Point System (GFPS), the series of activities included the inauguration of the DOST-TAPI Breastfeeding and Lactation Station, a first for the Institute.
DOST-TAPI Director Marion Ivy D. Decena headed the inauguration of the DOST-TAPI Breastfeeding and Lactation Station on 29 March 2022
DOST-TAPI Director, Atty. Marion Ivy D. Decena, headed the ribbon-cutting ceremony following the Institution's efforts for a more inclusive workplace.
"This is our way of expressing gratitude to our female employees for their significant contributions toward achieving DOST-TAPI's goals," said Director Decena.
Equipped with amenities and facilities to ensure a comfortable and hygienic experience, the newly-inaugurated station serves nursing mothers of DOST-TAPI.
The room includes a baby changing station, refrigerator, electric breast pump, medicine and sanitation kit, cabinets, and pillows.
Mrs. Merlina C. Acero, Administrative Officer I and a nursing mother of DOST-TAPI, expressed her gratitude to the initiative.
She stated that with a newborn baby and a back-to-office setup, the station really helps in ensuring that she can still attend to her baby's needs even while working.
"Salamat sa initiative ng DOST-TAPI na magkaroon ng breastfeeding at lactation station, at sana magkaroon pa ng maraming project na ganito in the future," said Acero.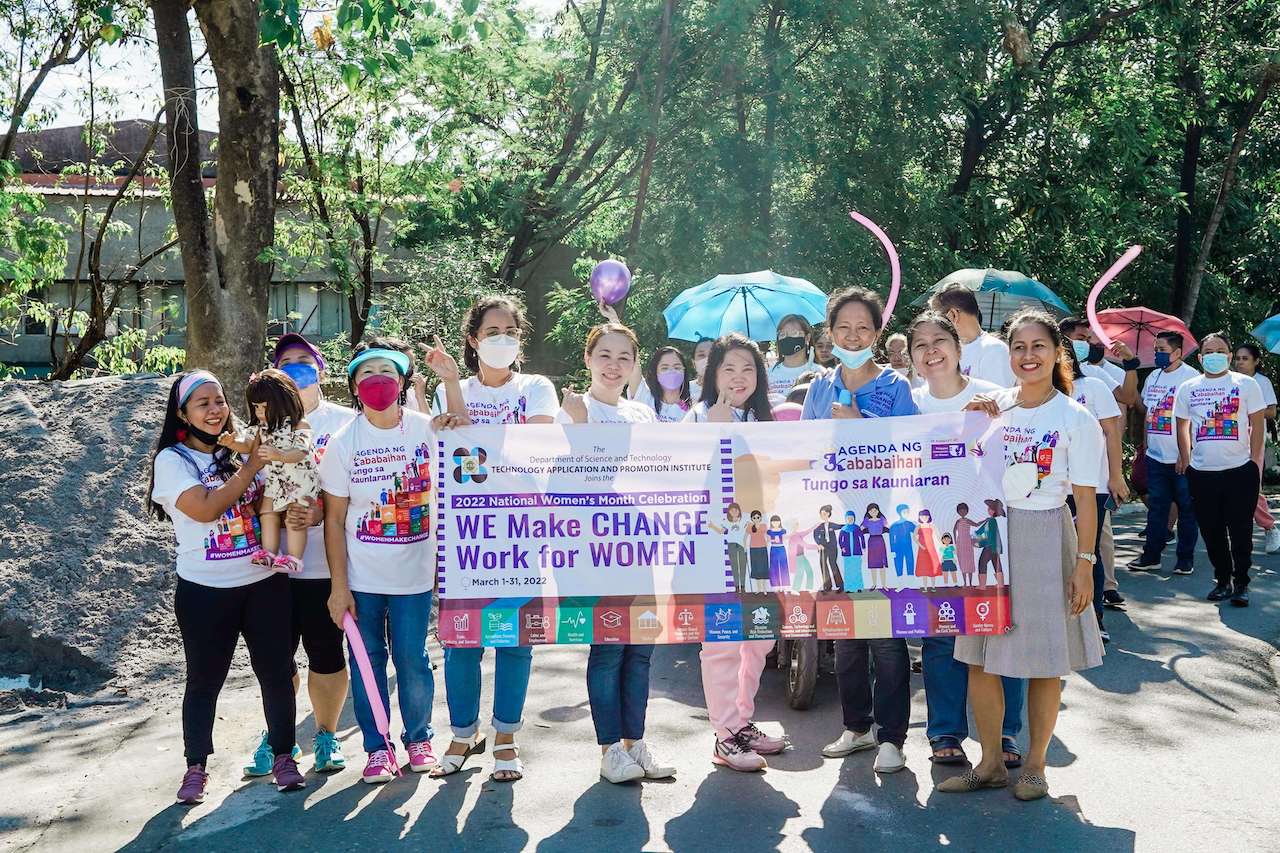 DOST-TAPI greets the DOST community with the colors of the National Women's Month during the parade on 29 March 2022
DOST-TAPI Chief Science Research Specialist and Alternate GFPS Chairperson, Ms. Nora P. Gumia also shared her appreciation to everyone who continues to support the efforts of GFPS.
"We will continue to improve the efforts of GFPS to attain equality and inclusivity in DOST-TAPI," said Gumia.
Earlier, DOST-TAPI hosted a webinar on Sexual Orientation, Gender Identity and Expression, Sex Characteristic (SOGIESC) on 28 March 2022 with Ms. Kristel May Magdaraog of the University of the Philippines Diliman Gender Office as resource speaker.
The webinar emphasized the creation of an inclusive environment for everyone as discrimnation still persists everywhere even if it is unseen.
For more information, please contact 8837 2071 local 2151, or email This email address is being protected from spambots. You need JavaScript enabled to view it..