by Jund Rian A. Doringo
---
To celebrate invention and innovation in the country, the Technology Application and Promotion Institute of the Department of Science and Technology (DOST-TAPI) will be holding the National Invention Contest and Exhibits (NICE) on 22-24 June 2022 via virtual platform.
A biennial activity, NICE recognizes the best and the brightest Filipino inventions, innovations, and researches in the Philippines, as these research and development outputs and results contribute to national development.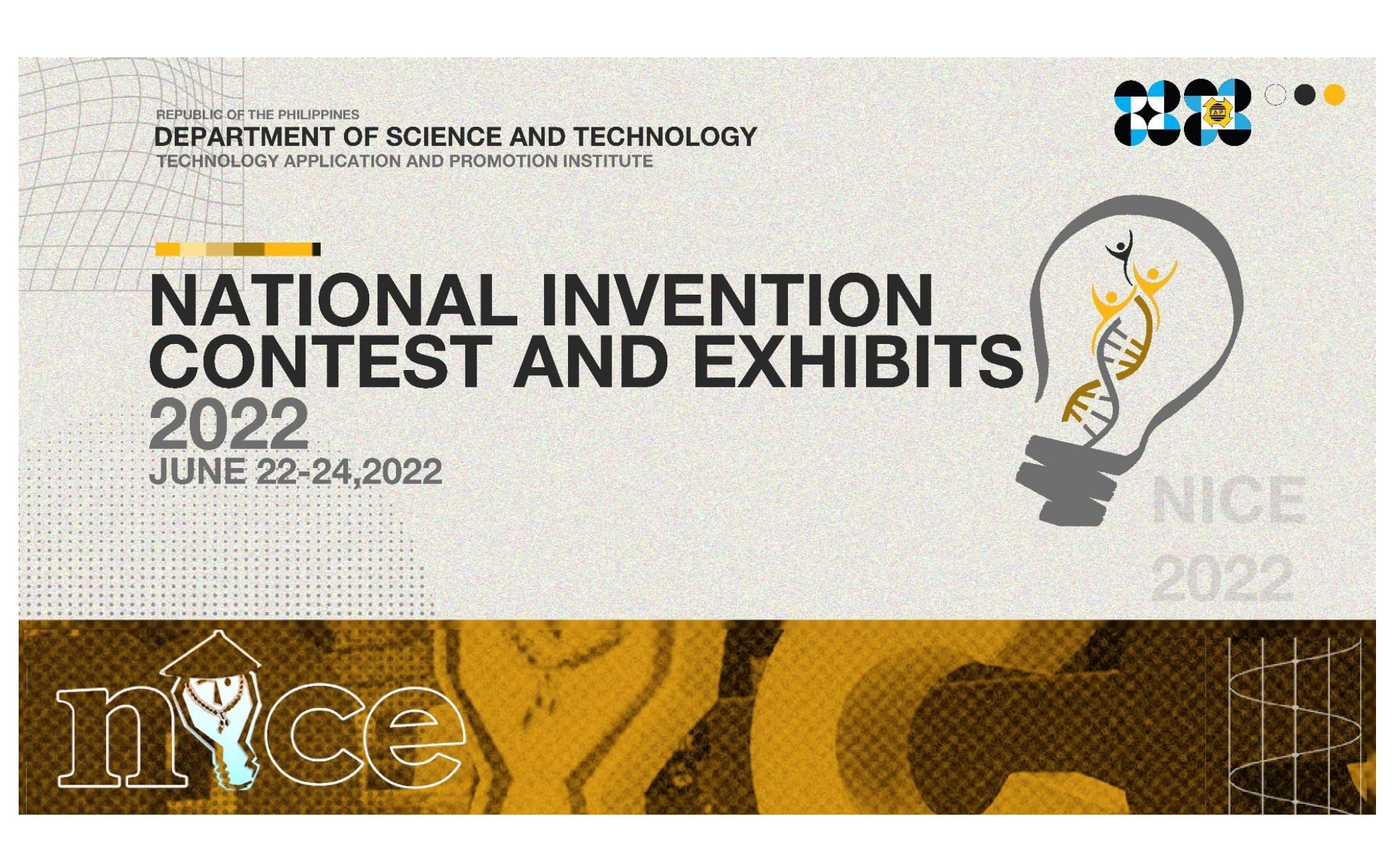 The 2020 NICE will be held on 22-24 June 2022 via virtual platform
"I am very excited for everyone to come and celebrate with us during the NICE 2022 as we bring the most outstanding intellectual properties and research the Philippines has to offer," said DOST-TAPI Director, Atty. Marion Ivy D. Decena.
The NICE finalists are the winners of the Regional Invention Contest and Exhibits (RICE) conducted in 2019 and served as the qualifying round for the NICE.
This year, 63 finalists will compete under five NICE categories namely, Tuklas Award for Outstanding Invention with two finalists, Unlad Award for Outstanding Utility Model with 10 finalists, and Banghay Award for Outstanding Industrial Design with six finalists.
Moreover, the Likha Award for Outstanding Creative Research has 12 finalists under the public-funded creative research subcategory and seven finalists under the private-funded creative research subcategory, while the Sibol Award for Outstanding Student Creative Research has 10 finalists under the college student creative research subcategory, and 16 finalists under the high school student creative research subcategory.
"We are also very grateful to the World Intellectual Property Office's (WIPO) continued support in our worthwhile endeavor," said Director Decena.
WIPO, a specialized agency of the United Nations which assists in developing a balanced international intellectual property legal framework to meet society's evolving needs, will provide gold medals to the outstanding inventions and certificates of recognition to the national winners.
For more information, please contact 8837 2071 local 2151 or email This email address is being protected from spambots. You need JavaScript enabled to view it..