By Engr. Marvin Eric O. Dela Cruz
---
Taguig City - The Technology Application and Promotion Institute of the Department of Science and Technology (DOST-TAPI) is one of the inaugural recipients of the 2022 innovation funding from the National Economic and Development Authority (NEDA).
The NEDA's Innovation Grants is made in pursuance of the visions of the Philippine Innovation Act (Republic Act 11293) which adopts innovation as a key component in driving inclusive development and promoting growth and national competitiveness. Under this law, human capacity building, grassroots/social innovations, advocacy and community education are among the key themes that must be prioritized for execution and alignment.
Out of the 451 proposals received nationwide for the 2022 grant cycle, the DOST-TAPI' entry titled "Project SciNing - Cultivating Ingenuity, Creativity and Awareness through Experiential Learning, Innovations and Promotions" which will run until December 2022 is one of the top 20 proposals approved by the National Innovation Council Executive - Technical Board after a series of deliberation and highly competitive evaluation process. The Board found the proposal meritorious for introducing innovative solutions and transformative activities that can significantly unlock new opportunities for national development and sustainable economic growth.
BEST PRACTICES. Engr. Marvin Eric O. Dela Cruz, Project SciNing Leader and Senior SRS of TIPD, shares some of the best practices that helped DOST-TAPI clinch the NEDA funding for the project. Photo ℅ DOST-TAPI Corporate Communications Unit/Ms. Mirielle V. Vacal.
Under Project SciNing, DOST-TAPI hopes to foster ingenuity and creativity among the youth thru the conduct of the Invent School Program as experiential learning intervention in Basilan. The Project will also introduce and promote Filipino inventors and their education-related inventions as learning modality to the youth. As a culminating and fund-raising event, a film premiere coupled with a science-themed art exhibit will be conducted in December of this year to build awareness, promote invention advocacies, and encourage innovation partnerships with institutional stakeholders, key decision makers, and potential collaborators.
"DOST-TAPI services are dedicated to potential and full-fledged Filipino inventors. As the country's premiere invention institute, we are your partner in ensuring every innovative idea is nurtured, realized, and protected as world-class invention that benefits Filipinos and society as a whole", said Atty. Marion Ivy D. Decena, DOSTTAPI's Director.
For its outcome, Project SciNing hopes to ignite a movement that would awaken the Filipino's inventiveness, particularly the youth, so as to contribute in improving the country's perennially low science literacy rating.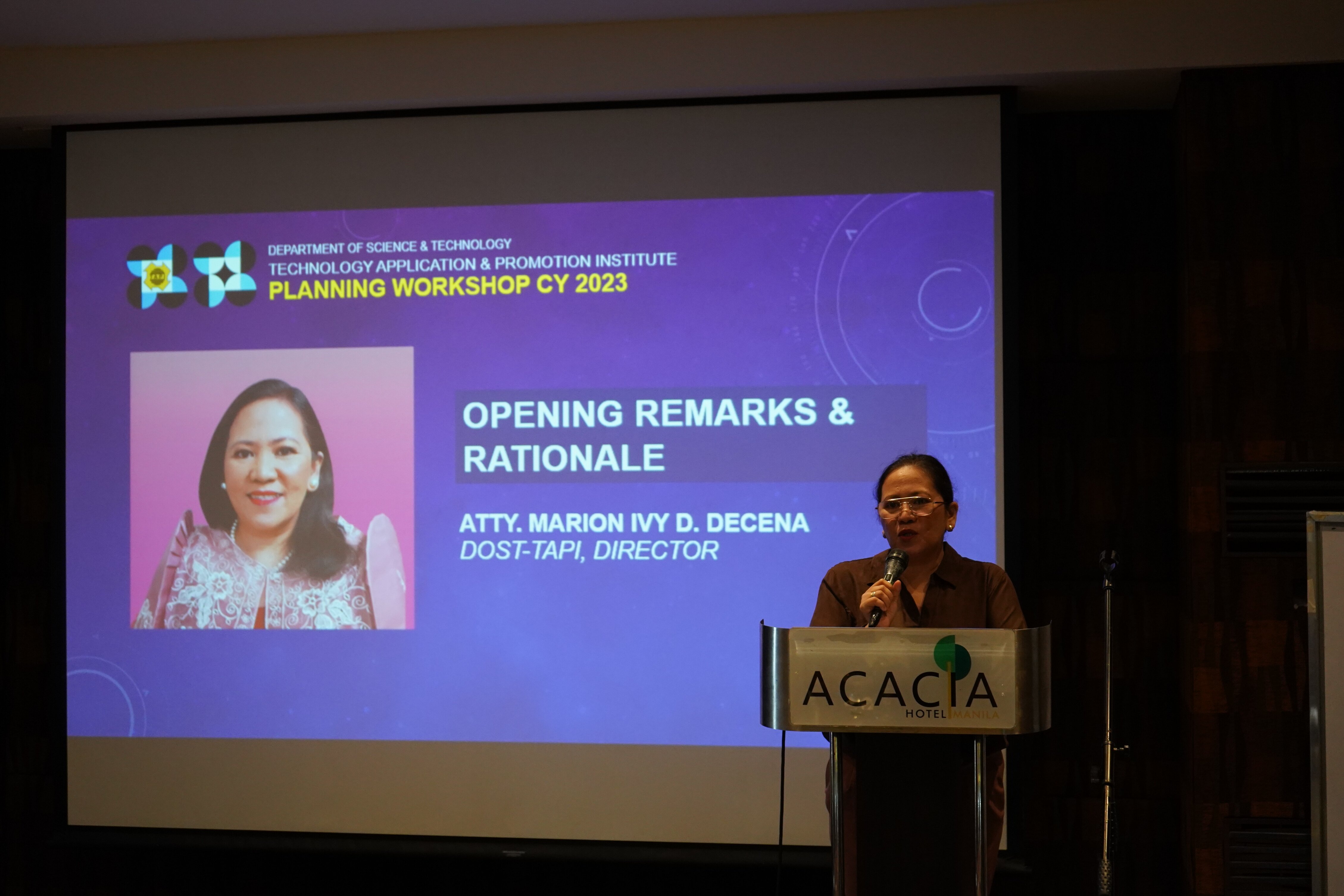 GREATER HEIGHTS. DOST-TAPI's Director Atty. Marion Ivy D. Decena shares some of her hopes during the agency's planning workshop for CY 2023, as DOST-TAPI embarks on a journey to greater heights under her leadership which included clinching a NEDA Innovation Grant for Project SciNing. Photo ℅ DOST-TAPI Corporate Communications Unit/Ms. Mirielle V. Vacal.
"We will use Project SciNing's as platform to introduce and link DOST-TAPI's invention programs to community partners and stakeholders in furtherance of our shared goals and visions", added Atty. Decena.
For more information about Project SciNing, connect with DOST-TAPI's Applied Communications Unit for Inventors by emailing them at This email address is being protected from spambots. You need JavaScript enabled to view it..