By: Lawrence San Diego
---
Commuting every day in the city is already exhausting enough, so imagine the daily struggles of a person with disability (PWD) like James Bryan Camacho, who simply wants to get from one place to another.
"Ever since I was a kid, I commute day in, day out. Talagang 'yan ang struggle ko—mobility," shared Camacho, who had to rely on his saklay or crutch after surviving polio at a young age.
"Madalas kasi, mahirap i-ayos 'yung saklay kapag nasa loob ng sasakyan. 'Yung laging nakaharang o kaya matatamaan mo 'yung ibang pasahero. Mas nagiging sagabal pa ang saklay kaysa makatulong."
Camacho relived that same awkwardness with his crutch while boarding a plane on one of his travels. But little did he know that it was the beginning of his life-changing idea.
"A flight attendant tried to help me find a space to store my crutch inside the cabin. But she couldn't find any, so she ended up wrapping my crutch in packaging tape," he said. "I knew she was just trying to help, but that encounter somehow sparked a eureka moment for me."
Nano Foldable Crutch
Camacho's experience in the plane, along with his real-life challenges as a PWD, inspired him to develop his Nano Foldable Crutch that can be folded and unfolded quickly with just a push of a button.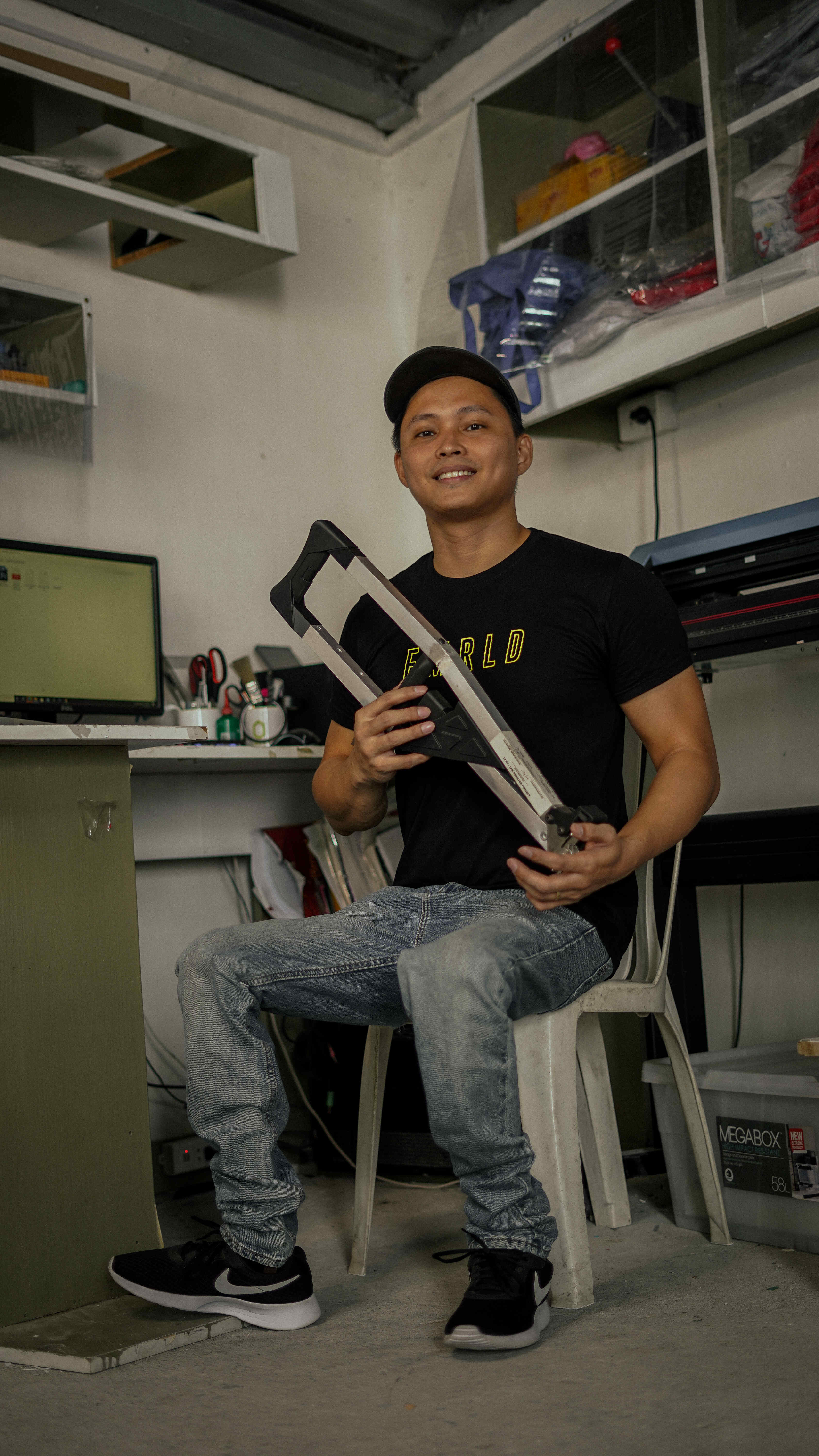 Inventor James Camacho developed his Nano Foldable Crutch inspired by his struggles as a PWD.
He touts his invention as an "advanced smart crutch" that promises to be more portable and more convenient for PWDs as compared to commercially available mobility assistive devices that are bulky and difficult to use.
Unlike similar products out in the market that need upper body strength to use, Camacho's invention allows users to effortlessly adjust the foldable crutch according to their height and arm length, thanks to its push-button upper assembly and a patented spring mechanism.
"With just one click of a button, I can now carry my Nano Foldable Crutch easily while traveling," he said. "This may seem trivial to people who are not using crutches. But for us PWDs, we want to feel comfortable as much as possible and avoid inconveniencing other people at the same time."
Journey through Invention
Even without a formal background in design and engineering, Camacho tapped on his innate curiosity and creativity—as well as on the support of friends and engineers who backed his vision—to come up with early prototypes of the Nano Foldable Crutch using basic materials.
While researching on the optimal design for his invention, Camacho noticed that other foldable crutches are suitable only for people with light leg injuries and not for those with long-term disabilities.
Despite not being an engineer or designer, Camacho came up with a crutch that is specific to the needs of PWDs in the country through research and various support.
"These crutches were made in developed countries, where most facilities and transportation are already PWD-friendly," he explained. "But for PWDs here in the Philippines, we still have a long way to go. And that is how the design of my invention was born out of the real-world challenges in mobility and accessibility that I experience firsthand."
Like most inventors, Camacho also grappled with funding for his prototype development. This is why he is grateful to the Department of Science and Technology (DOST) for supporting his invention journey.
The agency's Metals Industry Research and Development Center (MIRDC) helped the young inventor fabricate his initial prototype made of stainless steel. He then presented this as proof of concept to the Technology Application and Promotion Institute (TAPI), which assisted him in
securing legal protection for his invention through the Intellectual Property Rights Assistance Program. TAPI also granted him 100,000 pesos under the Industry-Based Invention Development program to help him fabricate additional units of his prototype, which he used for testing with other PWDs and for pitching to potential inventors.
"I appreciate how I was able to work hand in hand with MIRDC and TAPI. They guided me every step of the way and gave their feedback to improve my design," he said. "Siyempre, tulong ito mula sa gobyerno, pera ng taong bayan, kaya ayaw ko ito na masayang. I want to be a good steward of the support given to me."
Designed for Confidence
After testing different materials and working through several iterations, Camacho developed his recent prototype made of aluminum, stainless steel, and 3D- printed parts, with the strength to support up to 200 kilograms of body weight.
Camacho designed the Nano Foldable Crutch to be "good to go" and ready for use by PWDs regardless of their type of disability or injury. He also uses his prototype in his daily activities to test its durability in actual situations, earning him the admiration of people around him.
"Every time I go out and meet people at work, at church, or just about anywhere, they are amazed to see my foldable crutch. It now has become a conversation
starter for me and my advocacy," he shared.
"Crutches, wheelchairs, and other mobility assistive devices often carry a negative stigma. And so I want the Nano Foldable Crutch to be different. I want it to be functional and beneficial for PWDs and help them feel confident while using it."
Going Commercial
With people on the street, as well as on social media, marveling at his foldable crutch and expressing their willingness to buy, Camacho was encouraged to take his invention to the next level.
He is now working with a Taguig City-based design and engineering firm to develop two commercial versions of the Nano Foldable Crutch—one made of all aluminum and one made of carbon fiber—which he plans to use in pitching to more investors and partners who can support him in his goal of bringing his invention to the market.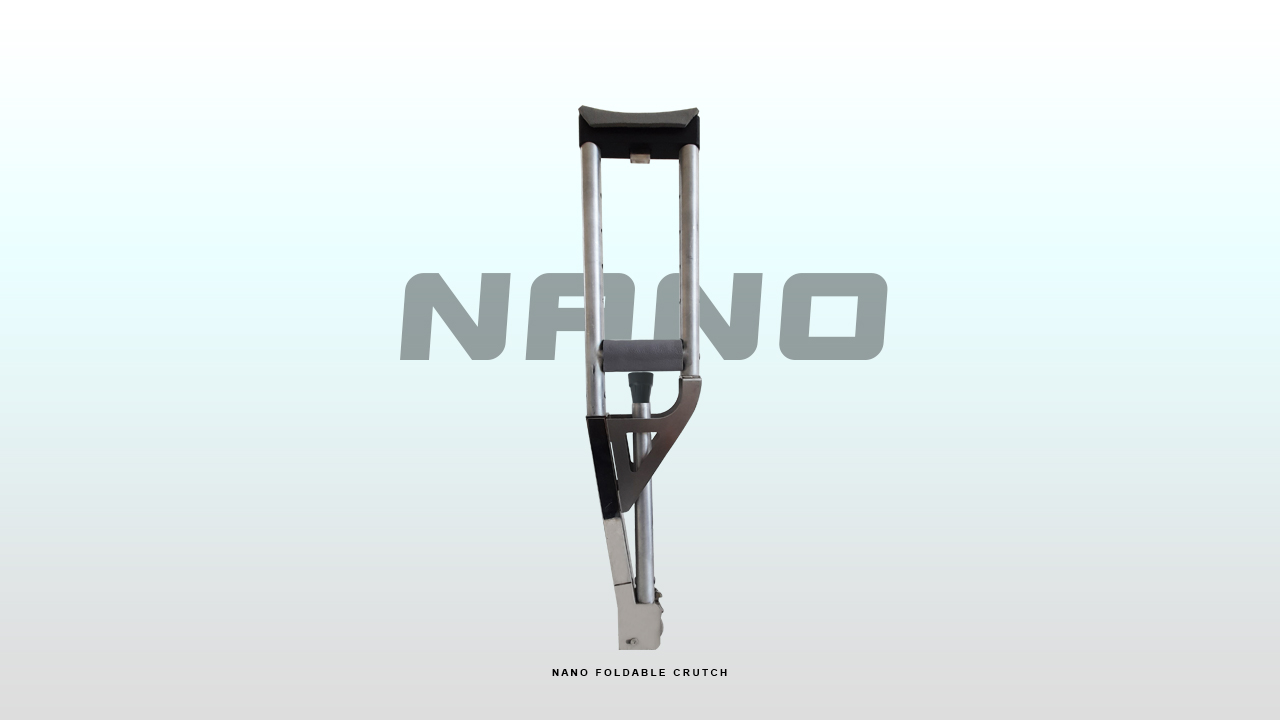 Latest prototype of the Nano Foldable Crutch Photo courtesy of James Camacho
"I've learned what works and what doesn't from my previous prototypes, and I've applied all those lessons in improving my invention using better and stronger components," he said.
Camacho is actively seeking opportunities to demonstrate the Nano Foldable Crutch, particularly in local government units and private companies that can adopt the technology for their community outreach and corporate social responsibility programs and help him introduce his invention to more PWDs across the country.
"My goal is to start with mass production of the Nano Foldable Crutch soon, so I can market my product at a lower price and make it more affordable for PWDs," he added. "I want them to know that we now have the technology that is 100% Filipino-made and is readily available."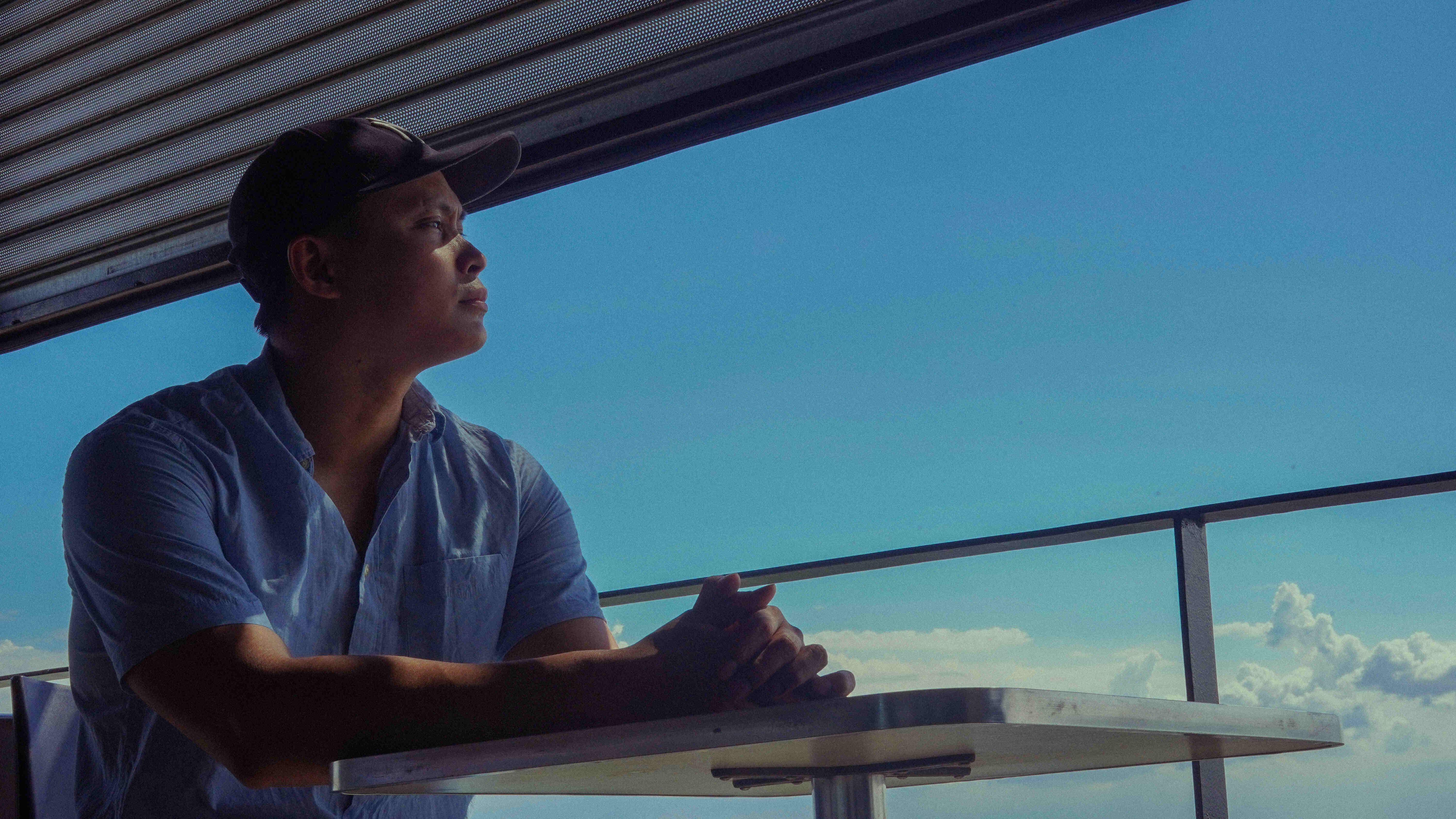 Camacho envisions his own company for helping fellow PWDs with the technology of mobility assistive devices.
In the long run, Camacho wants to go beyond crutches and pursue his ultimate dream of managing his own startup specializing on different mobility assistive devices that are suitable for the Filipino market.
"I want to create jobs and hire PWDs who will manufacture mobility assistive devices while also giving their feedback on how to improve the design of our products," he shared. "Moving forward, they can also collaborate on developing solutions based on their experiences and creating their own products."
Investing in PWDs
As a PWD, Camacho knows very well the importance of asking for support from other people to help him get to where he wants to be in life. This same wisdom energizes his pursuit of inviting partners and collaborators to invest in purposeful innovations that can empower PWDs and benefit our society.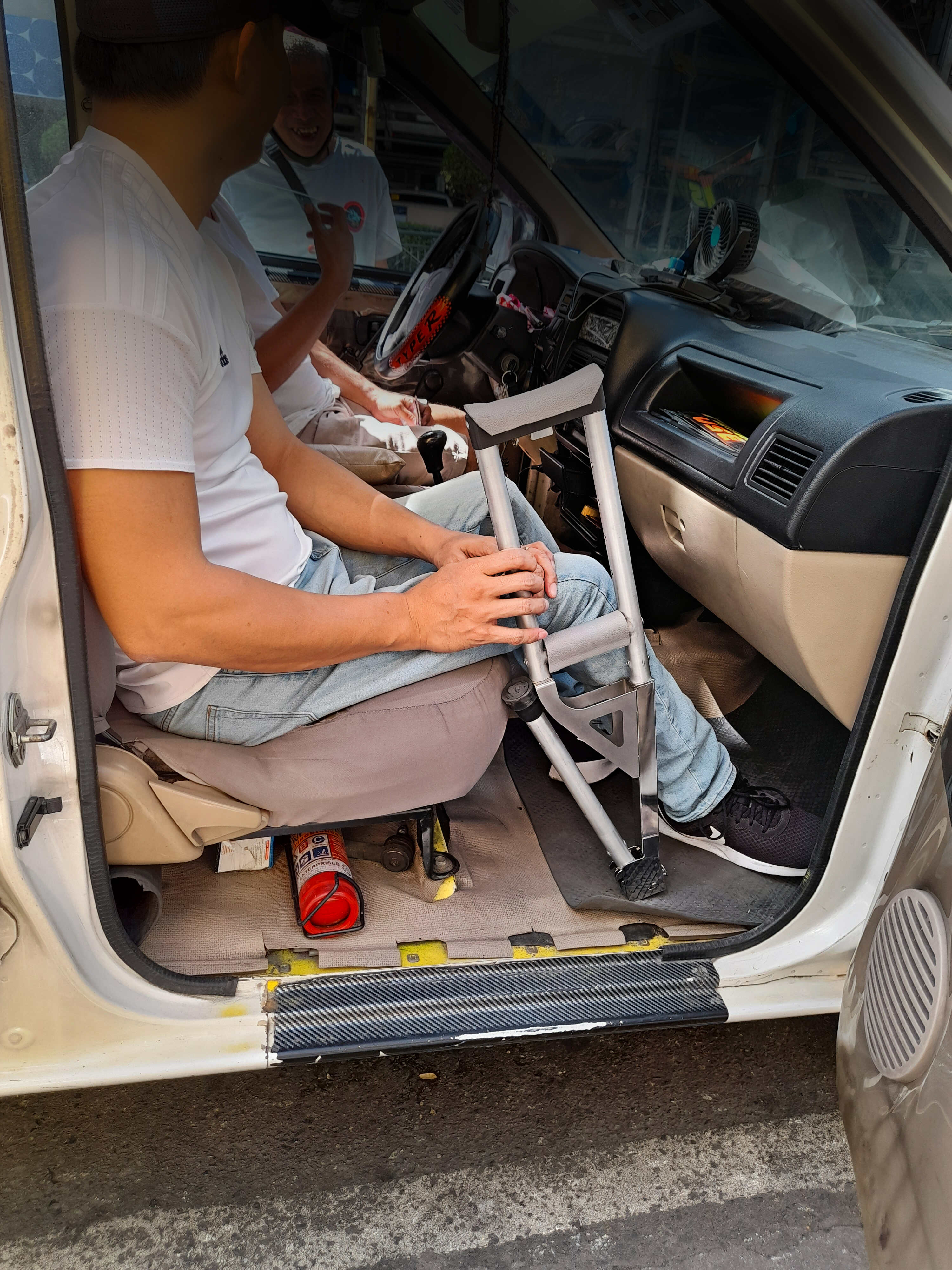 Camacho hopes to empower Filipino PWDs and work with them to address their mobility needs. Photo courtesy of James Camacho
"Many PWDs feel they are left out, so they somehow limit themselves and no longer aspire for greater things. I know this because I felt the same way before," he explained. "But with the Nano Foldable Crutch, they can finally have a chance in life, a chance to be able to provide for themselves and for their loved ones."
Camacho added, "I will not be able to do this alone. I need people who can run with me and my vision. I want them to know that they are not just investing in a product, but they are also investing in the freedom and wellbeing of PWDs—physical, mental, and even emotional and spiritual. Kaya naman natin eh. We can definitely do something about it."
Curious to learn more about the Nano Foldable Crutch? Email This email address is being protected from spambots. You need JavaScript enabled to view it. to send your inquiries or to get in touch with inventor James Bryan Camacho.