By: Shara Ibrahim
---
SEPTEMBER 26, 2023 – The Department of Science and Technology - Technology Application and Promotion Institute (DOST-TAPI) is thrilled to announce the finalists of the 2023 Regional Invention Contest and Exhibits by Cluster (clusteRICE) for Northern Luzon.

Established by DOST-TAPI, the RICE celebrates the brilliance and indispensability of Filipino inventors in shaping the economic and societal landscape of the Philippines. This contest, acting as a precursor to the National Invention Contest, serves as a beacon to encourage inventors to harness their potential and creativity.
The competition spans several categories, including:
1. Outstanding Invention Category (Tuklas)
2. Outstanding Utility Model (Unlad)
3. Outstanding Industrial Design Category (Banghay)
4. Creative Research Category (Likha)
4.1 Government Funded
4.2 Private Funded
5. Student Creative Research Category (Sibol)
5.1 High School
5.2 College
After thorough examination of entries based on completeness of documentation and adherence to the stipulated criteria, the following finalists were selected: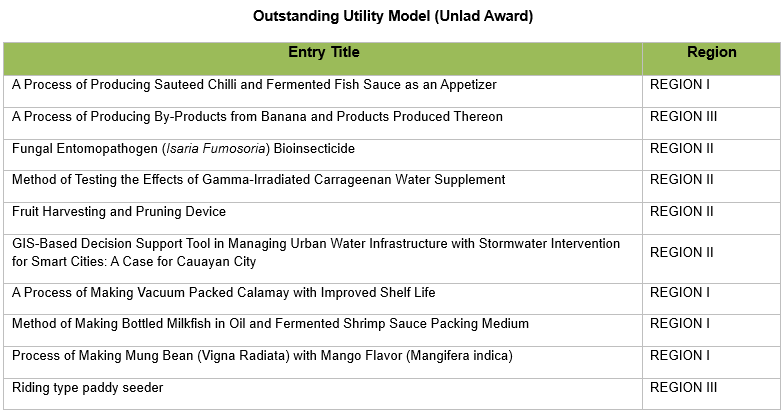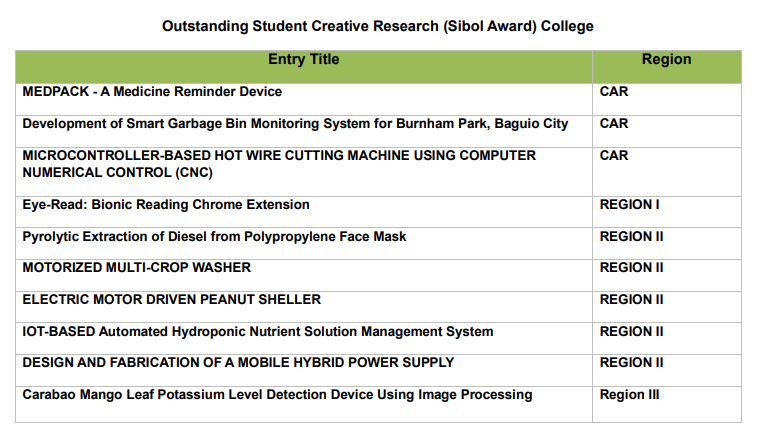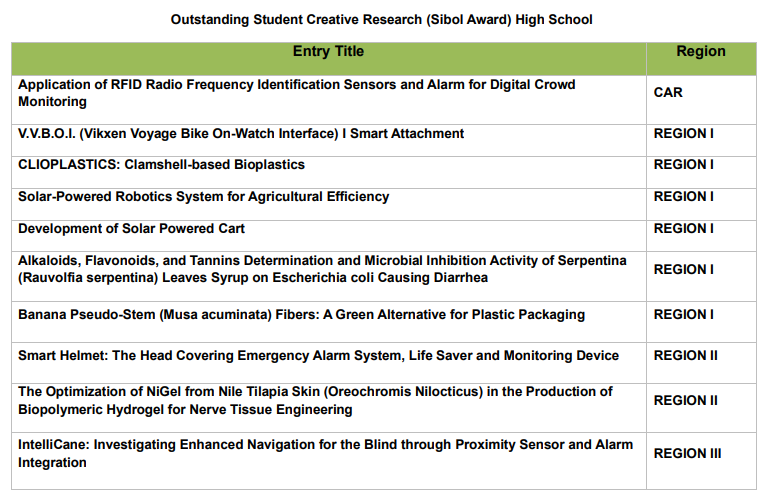 All shortlisted entrants will undergo two exhaustive rounds of judgement. Out of the 218 entries received, the initial qualifying round involved a comprehensive paper evaluation, narrowing it down to 55 finalists.
For the final round on September 27-28, the finalists will follow a hybrid setup. Each participant will be allocated a five-minute slot to present and pitch their groundbreaking inventions. While the majority will be presenting in person, special arrangements have been made for contestants who, due to health concerns or travel constraints, requested to participate via Zoom.
Three exemplary inventors from each category will be distinguished as the first, second, and third prize winners. Moreover, all the recipients of the first prize across categories will be automatically eligible for the National Invention Contest and Exhibits (NICE) to be held in 2024.
The much-anticipated pitching and awarding ceremonies are scheduled to be held at the J & V Hotel and Resort, San Fernando City, La Union. DOST-TAPI extends its hearty congratulations to all the finalists and wishes them the best of luck in the subsequent rounds. Let the spirit of innovation and excellence prevail!