By: Vincent Mendez
---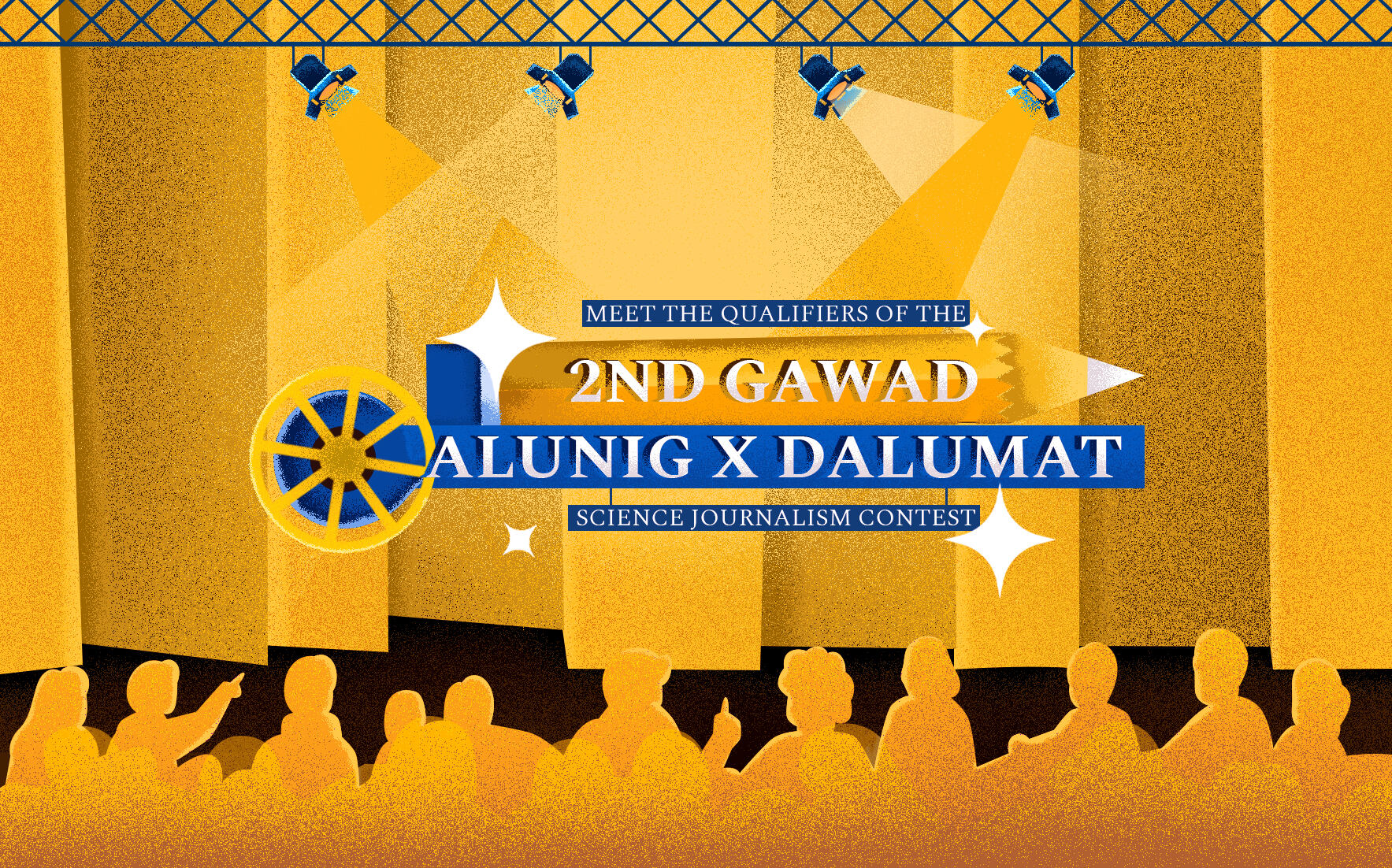 In its second year, the Department of Science and Technology - Technology Application and Promotion Institutes celebrates the spirit of science journalism with Gawad Alunig x Dalumat. Witness empowering narratives of science, technology, and innovation in the latest episodes of DOST-TAPI's KALIPUNAN this September 29-October 11, 2023 on the i-INVENT and DOST-TAPI Facebook pages.
The special broadcast of KALIPUNAN will showcase science stories developed by the qualifiers of Gawad Alunig x Dalumat. Continuing its success from last year's competition, DOST-TAPI welcomed entries from various school publications and local correspondents nationwide. These stories focus on the latest and most significant science stories in the community. The episodes will report on the critical contribution of science and technology in major sectors of society from agriculture, education, livelihood, health, disaster management, and engineering.
Among the featured reports and publications, DOST-TAPI shall award this year's Gawad Alunig to the outstanding science citizen correspondent and the Gawad Dalumat for best school-based or student-led science publication.
For the winners of the Science Broadcast, one Gawad Alunig Best KALIPUNAN Science Youth Correspondent will receive 50,000 pesos, one Gawad Alunig First Runner Up will receive 20,000 pesos, three Kalipunan Student Correspondent runners-up will receive 10,000 pesos each, and the Gawad Alunig People's Choice Awards will receive 10,000 pesos!
For Science Publication, another 50,000 pesos will be awarded for the Gawad Dalumat Best Science School Publication, 10,000 pesos for the two Gawad Dalumat runners-up, and 10,000 pesos for each of the three Gawad Dalumat Top Science Stories winners, for a total of 100,000 pesos!
On October 28, 2023, catch the Gawad Alunig x Dalumat awarding ceremonies at the National Youth Science, Technology, and Innovation Festival (NYSTIF) to be held at the Philippine International Convention Center in Pasay City.
Padayon para sa mga mamamahayag ng agham!
See the full list of Gawad Alunig X Dalumat qualifier below:
GAWAD ALUNIG QUALIFIERS
Karrenne Jane L. Torilla

The Mindanao Tech, University Of Southern Mindanao

Kent Paulo R. Delgado

Daniel R. Aguinaldo National Highschool

James Gabriel A. Regondola

Vinzons Pilot High School

Jimuel Cubangbang

Philippine Normal University North Luzon

Moh. Esmail-Ii M. Jimlah

The Mindanao Tech, University Of Southern Mindanao

Adrian L. Estrera

Angeles City Science High School

Carmella A. Plang

The Mindanao Tech, University Of Southern Mindanao

Mark Martin F. Casido

Bayawan City Science And Technology Education Center

Jeliane Evardo Endencia

Agusan National High School

Patricia Jade De Jesus

Angeles City Science High School

Noe Mandreza Quezada

The Sea Strivers Publication/ North Eastern Mindanao State University-Lianga Campus

Eli De Guzman

Angeles City Science High School

Anna Carmela P. Cano

North Eastern Mindanao State University-

Lianga Campus

Asnifah M. Bantog

Maigo National High School

Jenny Dusiman

Napsan National High School

Emmie Katrice Posadas

Armm Regional Science High School

Moises Justin B. Ilogon Iii

Agusan National High School

(Science Department)

Stephanie Jane P. Aleguis

Cabadbaran City National High School -

Senior High School

Jeliane Evardo Endencia

Agusan National High School

Erell Clerigo Montajes

Cabadbaran City National High School -

Senior High School

Norhana Dimalapis

Deped Lanao Del Norte/

Maigo National High School

Shaine Anne R. Medina

Makapuyat National High School

Dennise Anne L. Raymundo

Deped Lanao Del Norte/

Maigo National High School

Bobby S. Garcia Jr.

San Francisco High School

Edfel Joe Canangca-An Taer

Mainit National High School

Kaysha Zara Senabre

Claver National High School

Vanessa Joyce Leona

Jose Panganiban National High School

Emm Lady E. Comendador

Babag National High School

Sophia B. Agustin

Marcelo H. Del Pilar National High School

Pera, Patrick Allen P.

University Of Batangas

Giov Zeane Marcelo N. Marbel

Nieves Villarica National High School

Elrich Troi R. Ogbac

Mimaropa Regional Science High School

Mark James Arceo Sunga

Eugenio M. Lopez Jr.Center For Media Arts

Senior Highschool

Jen Laurine M. Cosicol

Mimaropa Regional Science High School

Eyhiamae T. Canoy

Tomas Cabili National High School

Jeren Kate Espeleta Latombo

Bansud National High School- Regional Science High School For Mimaropa

Zamantha Nicole C. Babor

Mabinay National High School

Jesusa Grace M. Calingasan

Bansud National High School- Regional Science High School For Mimaropa

Hanif Palawan Riga

Tomas Cabili National High School

Antoneth M. Dela Merced

Bansud National High School- Regional Science High School For Mimaropa

Maxene Malabad

Isabela National High School

Ray Patrick T. Ricabo

Bukidnon National School Of Home Industries
GAWAD DALUMAT QUALIFIERS
DILAAB

Science And Technology Education Center

● Lato and Guso Hypoglycemic Marvels

Schinker Pahugot

● Coconut Shells to CSLS: A Novel Treasure for Future Medical

Advancements

Athena Cabras

The Thirteenth Scholars

Philippine Science High School -

Caraga Region Campus

● Alpha, Beta, Delta?: The Science of Variant-naming

Shaina Delia G. Tomaneng

● Circadian Rhythm and its impact on sleep and students' health

Francis Isaac Mijares

The Mindanao Tech

University Of Southern Mindanao

● Green Problems to Green Solutions: The Future in Liguasan

Macroalgae

Earl Axel Arabejo

● Breaking Through the PH's Adlay Productivity, USMian Breeds Five

Varieties

Rico John Gorieza

The Mindanao Tech

University Of Southern Mindanao

● It isn't Tuba nor Suka; it's Coco Yogurt

Rico John Gorieza

● Superworm to Supersnack: Grubilicious Chichaworms in the Modern

Exotic Food Industry

Earl Axel Arabejo

Naguenian

Naga City Science High School

● Coconut-husks powered machine for salt farming to represent school

in science fair tilt

Jessie-Jandrei Swing

● Naguenian researchers innovate Arduino-based alarm for accident

prevention

Danica Culvera Palma

Bahaghari

Philippine Science High School-

Central Luzon Campus

● Siyentipikong Solusyon

John Anton Garcia

● Pagtuklas sa Bagong Karunungan

Christopher Tyrese dela Cruz and Kathea Jade Basi

Ang Siklab

Philippine Science High School -

Cagayan Valley Campus

● Sibisi Pangkalawakan: Teorya ng PSHS-CVC Alumnus, susubukin

sa ISS

Raphael John V. Dasalla

● DIA-BEST-THIS: Katas ng Narra, may tagong biyaya?

Prince Angelo C. Rivera

ANG PANITIK NGAYON

San Francisco High School

● JOY URBAN FARMING: Makakalikasang Proyektong

Pagkabuhayan ang Handog,

Bobby Garcia

● Mini Hydropower System: Maliliit na Kagamitang Hatid-Kuryente

Gamit ang Daloy ng Tubig

Cassandra Sioco

THE FOCUS

Maigo National High School

● Mitigating Air Pollution through Carbon Dioxide (CO2) Filter

from Eggshell Membrane

Trisha Nina Reyes

● The Learning Buddy App Assists Grade 7 Struggling Learners

Abbygail Lorraine Collado

The TORCH North Luzonian

Philippine Normal University North Luzon

● Smart Cities, Smarter Philippines

Muel Mark L. Bueno

● Hydroponics: From the Garden to the Kitchen to the Table

Jimuel C. Sagario

The TORCH Publication

Philippine Normal University North Luzon

● Banana Leather: A Trendsetter

Muel Mark L. Bueno

● Century's Subway Tunnel where Light Awaits

Carl John U. Ramos

The Pisay Explorer

Philippine Science High School-

Cagayan Valley Campus

● Alum in Space

Gerald Panaga

● PSHSS Prepares for Blast Off

Victor Navoa