By: Rommel Pamaos
---
3 years ago, on October 16, 19, and 31, Mindanao was hit by three powerful earthquakes that resulted in the death of 10 individuals and the destruction of 21,000 homes with the addition of 7,000 that were heavily damaged. Thousands of families were displaced and lived in temporary shelters, and different pictures of families surfaced on the net, and in news depicting them as symbols of resiliency. Resiliency has been the most abused word in the Philippines, especially in how we cope with disasters. But is that all there is?
This October 2023, Filipino resiliency will take on a different form through science and technology applications in HANDA PILIPINAS: Innovations in Disaster Risk Reduction and Management (DRRM) Exposition brought to you by the Department of Science and Technology. Now on its second leg, the event will take place at Limketkai Atrium and Luxe Hotel, Cagayan de Oro City on October 4-6.
The Mindanao Leg with the theme Enhancing Resilience and Sustainability for Mindanao is hoping to empower the most vulnerable communities so they can keep up with the evolving disasters through proper dissemination of information and advocacy efforts to intensify risk reduction. In the aftermath of the October 2022 Mindanao earthquake, an estimated 3.2 million children have been affected and more than 180 classrooms were destroyed. Through the adoption of DOST Technological innovations, the agency aims to address the gap in resiliency by raising public awareness that there are available technologies specifically developed for disaster preparedness and recovery.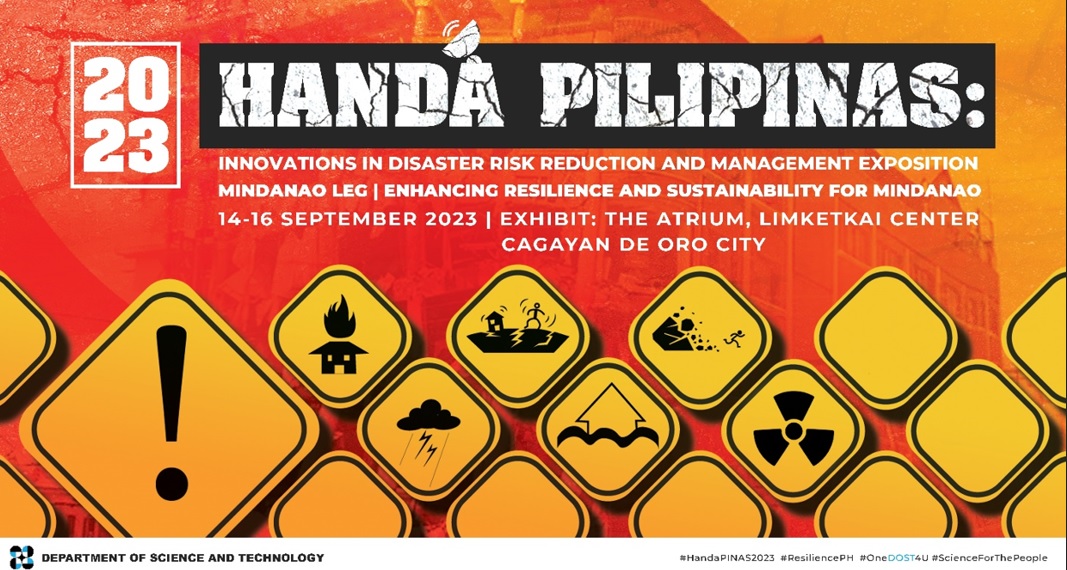 The three-day exhibit will bring closer to the community the different DOST-developed technologies that will highlight the technologies and initiatives on bamboo as a DRRM and Climate Change Adaptation and Mitigation strategy. One of the exhibits will showcase, How Safe is My House, an Android app used to evaluate a house's vulnerability to a strong earthquake. There are also the latest innovations in food technology like Ready-to-Eat Chicken Eggs, complementary food for children made from soya beans, collapsible toilet bowls for emergency use even foldable temporary shelters that can alleviate the situation of those who are directly affected by disasters. Being displaced does not mean they should be deprived of basic human necessities.
Because leadership is essential to such a crisis, DOST will also hold corresponding sessions in risk management and its relation to good governance. There will also be forums about laws, policies, and regulations on disaster risk reduction. Together with this are sharing of best practices from the Gawad KALASAG Winners. KALASAG or Kalamidad at Sakuna Labanan, Sariling Galing ang Kaligtasan is the NDDRMC recognition scheme in its search for excellence in disaster risk reduction management.
A special Disaster Risk Reduction forum will capacitate media persons and DRRMOs on effective DRR communication strategies. This is in line with the continuing effort to form a strong network of partnerships with stakeholders, media, and tiers of government. An exploration of flood forecasting and warning systems for the basins in Mindanao will be able to teach the community a more effective and efficient DRR in light of the recent flash floods that happened on the island.
Not only that, the HANDA Pilipinas 2023 exhibit is open and free to the public. Expected participants of this expo will be the local government units, national and regional government agencies, regional disaster risk reduction and management councils, volunteer organizations, non-governmental organizations, academe, and private sectors in Mindanao. There will also be a Mobile Planetarium for kids to gaze upon and wonder. Plus, a variety of student-centered activities like quiz bee, TikTok challenge, and other social media contests, all in the hope of planting a seed of interest in them to be agents of disaster risk reduction and climate change adaptation.
Join us and together we can bring back the true meaning of Filipino resiliency through technological innovations and
For more information and updates, follow HANDA PILIPINAS 2023 Official Facebook page: facebook.com/dost.handapinas.