by Jund Rian A. Doringo
---
A selfless and hardworking leader, Dr. Maripaz L. Perez devoted her life in championing technology transfer and commercialization in the country through the implementation of programs and activities to promote local technologies and inventions.
Dr. Perez joined the Socio-Economics Research Division of the Philippine Council for Agriculture, Forestry and Natural Resources Research and Development of the Department of Science and Technology (DOST-PCARRD) right after graduating from the University of the Philippines at Los Baños in 1977.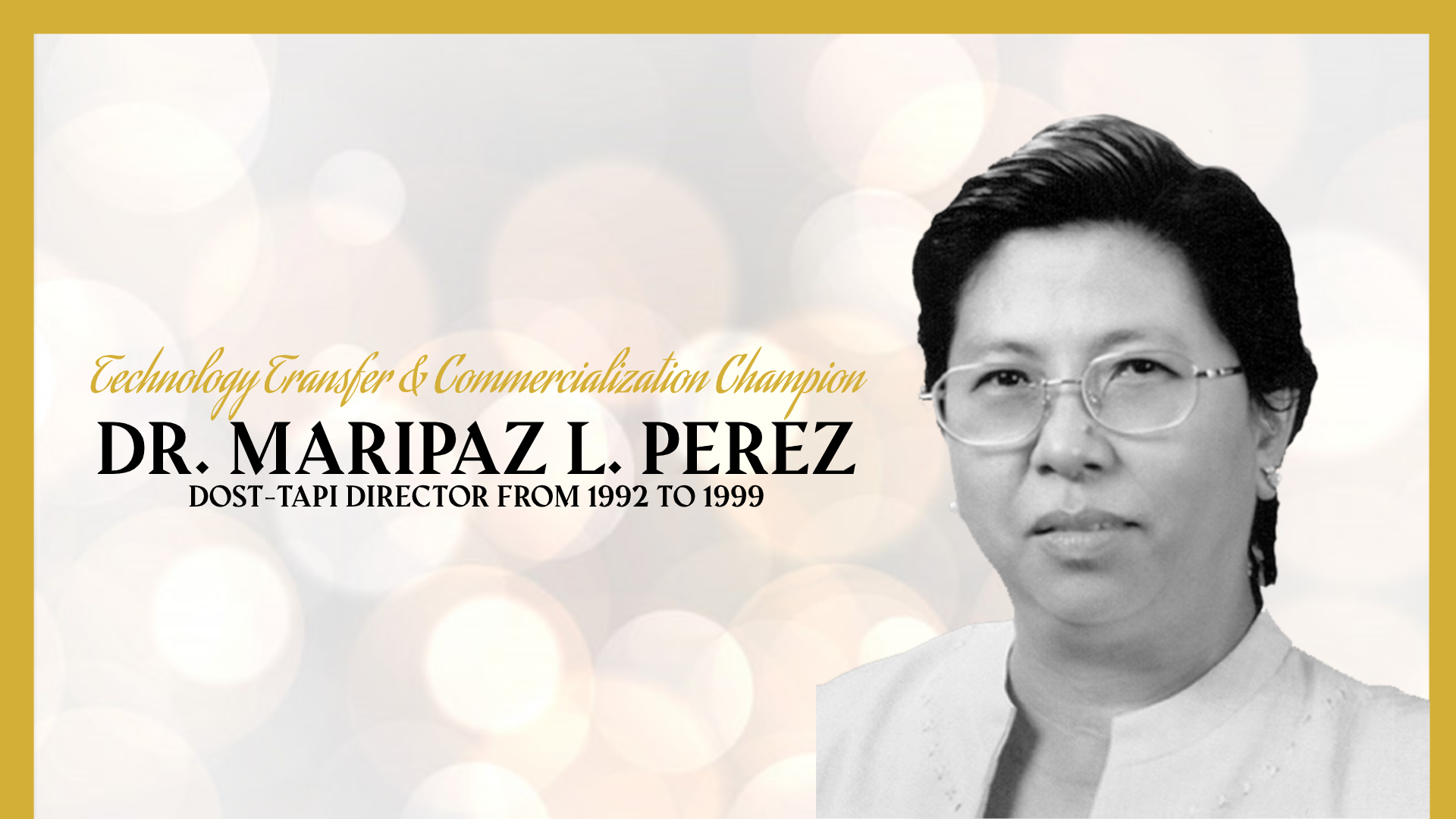 Dr. Maripaz L. Perez was the DOST-TAPI Director from 1992 to 1999
After completing her doctorate degree in Economics specializing in Resource Economics and Marketing she pursued post-doctoral studies on research priority setting and resource allocation at the Virginia Polytechnic Institute and State University in Virginia, United States of America.
Upon returning to the country, she was appointed as Chief Science Research Specialist of the Technology Development and Regional Coordination Division of DOST-PCARRD in 1991.
In 1992, she became the Director of the Technology Application and Promotion Institute (DOST-TAPI).
During her time in the Institute, she has spearheaded the creation and operationalization of strategic programs particularly on investors' forum, display and exhibit center, production of technology packages, municipal science and technology advisory, consultancy for agricultural productivity enhancement, and global technology search.
She also developed programs on venture financing, prototype development assistance, and student enterprise development, which are still being implemented today through the Venture Financing Program, Invention-Based Enterprise Development (IBED) Program, and DOST-Academe Technology-Based Enterprise Development (DATBED) Program, respectively.
In 1998, she brought Filipino innovation in Melbourne, Australia by participating in a Filipino Show, "A Centennial Celebration of the Pilipino Community in Melbourne."
The exhibition featured unique local products to stir nationalism among Filipinos in Australia and inspire them to join the national efforts to be a fully-industrialized nation by the turn of the century.
The event aimed to draw the interest of foreign investors to these products as well as the ideal investment climate in the Philippines and encourage them to come to the country to do business.
A year before leaving DOST-TAPI in 1999, she led the conduct of the 10th National Science and Technology Week where it recognized the need to enhance technology transfer and accelerate technological cooperation.
During the event, the Department introduced the technological exposition and technology market as a major component of the annual fair where buyers and sellers of technologies are given a venue to conduct immediate transactions.
Dr. Perez was appointed as the DOST Assistant Secretary for Research and Development, and Technology Transfer.
She assisted the Department in implementing strategic programs to enhance the transfer and commercialization of technologies and inventions from the scientific community.
In 2001, she created the Municipal Science and Technology Advisory Program where it facilitated technology transfer delivery in 197 municipalities of 25 provinces and conducted 54 technology-based training, benefitting 6653 individuals.
Moreover, she developed the Science and Technology Experts Volunteer Pool Program which deployed 207 science and technology experts in 41 cities and provinces, benefitting 6682 recipients.
The Production of Technology Packages Program and Prototype Development and Testing Program under her wing has completed nine feasibility and two industry studies, and evaluated 42 project proposals from 28 investors and 14 academies, respectively.
Finally, the Networking of DOST Standards and Testing Centers Program provided financial assistance of up to three million pesos to six DOST Regional Science and Technology Centers for the improvement of their standards and testing services.
In 2004, she became the DOST Undersecretary for Regional Operations and spearheaded the implementation of the Small Enterprise Technology Upgrading Program (SETUP) aimed at increasing the productivity and the competitiveness of small and medium entrepreneurs all over the country.
Until her last days, Dr. Perez has been active in participating and contributing to DOST programs and activities by providing consultancy services and partnerships.
For more information, please contact 8837 2071 local 2157 or email This email address is being protected from spambots. You need JavaScript enabled to view it..