Details
By Aira Juarez
---
DOST Stakeholders' Forum and Caravan in Southern Luzon Cluster to be held on 17-18 October 2022 at the Batangas State University, Batangas City.
After the success of the first leg of the Lakbay Teknolohiya para kay Juan at Juana: DOST Stakeholders' Forum and Caravan in the Visayas last August 25-27, the Technology Application and Promotion Institute (DOST-TAPI), together with the concerned Regional Offices gear up to bring science closer to the people in the North Luzon and South Luzon area this coming October.
Various activities are lined up including a stakeholders' forum, a business-to-business meeting, and a technology pitching event. Every Juan and Juana who is interested in the latest technologies generated by the DOST and its attached agencies can visit the exhibit which will be open to the public within the three-day event. This is also in partnership with the regional clusters of the Philippine Chamber of Commerce and Industry (PCCI).
Through the exhibit and B2B meeting, the caravan is expected to be an avenue for local entrepreneurs, business enterprises, and MSMEs in Luzon to have a business dialogue with technology generators supported and assisted by the country's premier science and technology department.
DOST-TAPI will be inviting esteemed speakers in their respective fields to pitch their technologies. The business-to-business meeting is expected to reach out to businessmen interested in adapting technologies developed by Filipino inventors and researchers. Technologies to be showcased are related to the fields of agricultural productivity, Micro Small, and Medium Enterprises (MSME) competitiveness, and food manufacturing.
Meanwhile, a stakeholders' forum will be attended by key players in Technology Transfer, including the business sector, academe, and government agencies. The forum expects to tackle issues prevailing in the technology transfer protocol in the country and aims to gather information to improve its current state.
DOST-CALABARZON, spearheaded by its Regional Director Ms. Emelita P. Bagsit, will be the host for the caravan in the South Luzon area. Other participating regional offices include DOST-NCR, DOST Region 4B, and DOST Region 5. The event for the South Luzon cluster will be held at the Batangas State University-Main Campus, Batangas City on October 17-19.
On the other hand, DOST Ilocos Region and its Regional Director Dr. Armando Q. Ganal will be leading the event in the North Luzon area. DOST Cordillera Administrative Region (CAR), DOST Cagayan Valley, and DOST Central Luzon are expected to support the caravan which is scheduled in various parts of the Mariano Marcos State University-Main Campus in Batac, Ilocos Norte on October 25-27.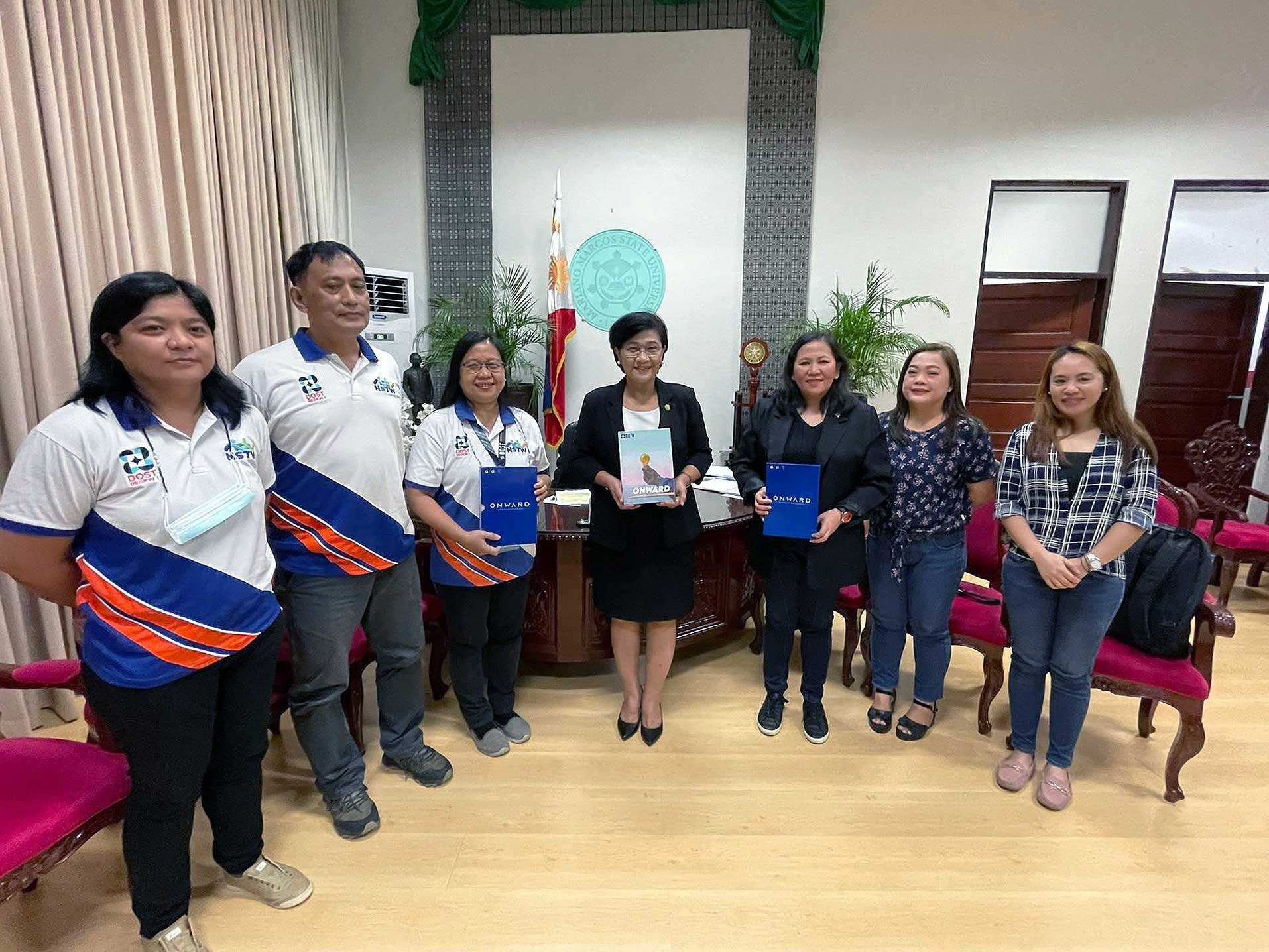 Atty. Marion Ivy D. Decena together with the DOST-TAPI Team and DOST Regional Office No. 1 Assistant Regional Director for Technical Services, Ms. Racquel M. Espiritu, and Provincial Director, Engr. Benjamin S. Mercado, Jr., in a meeting with Mariano Marcos State University (MMSU) President, Dr. Shirley C. Agrupis, in preparation for the DOST Stakeholders' Forum and Caravan in Northern Luzon Cluster to be held on 25-27 October 2022 at the MMSU, Batac City, Ilocos Norte.
Lakbay Teknolohiya para kay Juan at Juana: DOST Stakeholders' Forum and Caravan Bringing Science Closer to the People is a project initiative of the DOST-TAPI, in partnership with DOST Regional Offices which aims to promote institutional awareness among the general public through the conduct of a stakeholders' forum, a business-to-business meeting, and an exhibit specifically in the regions.
To know more about the event, please call (632) 8837 2071 local 2151 or email This email address is being protected from spambots. You need JavaScript enabled to view it..
Details
By Vincent Mendez
---
DOST-TAPI and JZ Jewelry Repair Shop Owner Ms. Evelyn Zamora signed a deed of conveyance for completing the Venture Financing Program here at MetroCentre Hotel. (From left to right: IBOD Division Chief, Mr. Romeo Javate, TAPI Director Atty. Marion Ivy Decena, JZ Jewelry Repair Shop owner Ms. Evelyn Zamora, & Assistant to the Owner/Manager Ms. Gleiza Laway).
The Technology Application and Promotion Institute held its first-ever Deed of Conveyance Signing Ceremony last September 30 at the Metrocentre Hotel, Tagbilaran City, Bohol.
DOST-TAPI, in partnership with the Provincial Science and Technology Center (PSTC) of Bohol, celebrated the successful venture between the Institute and local businesswoman, Ms. Evelyn Zamora.
Marking the successful refund of DOST-TAPI assistance to the JZ Jewelry Repair Shop, Director, Atty. Marion Ivy D. Decena, together with business owner Ms. Evelyn Zamora, led the signing of the documents officially transferring the ownership of the machines and equipment that were procured through DOST-TAPI's Venture Financing Program to Ms. Zamora.
Through the Venture Financing Program, DOST-TAPI provided financial assistance to JZ Jewelry to enable the firm to acquire the necessary equipment such as Investment Casting Machines and other tools for jewelry manufacturing and repair amounting to 712,468.76 PHP.
In her speech, Atty. Decena highlighted the achievements of Ms. Zamora as a local businesswoman from Tagbilaran and her success despite the various challenges.
"It is a testament that a local businesswoman in Tagbilaran can be as successful as anyone else from anywhere given the right opportunities." Atty. Decena said.
Ms. Gleiza Laway, the assistant to the owner/manager of JZ Jewelry, also shared her gratitude for DOST-TAPI's assistance to their business.
According to her, DOST-TAPI's venture financing program improved their operations, especially with the advent of their new machines. With the success of their business, they are now looking forward to expanding into a full-blown jewelry manufacturing company; one of the first to be established in Bohol.
DOST-TAPI Director and IBOD Division Chief Mr. Romeo A Javate joined the sight visit of JZ Jewelry Repair Shop, one of the beneficiaries of the DOST-TAPI's Venture Financing Program.
Moving forward, Atty. Decena urges business leaders in Bohol to also acquire the assistance of DOST-TAPI in modernizing their businesses.
"...let this be an inspiration to everyone who dares to build their dreams. We encourage you to take a leap of faith and become partners with DOST-TAPI in building a better foundation for your businesses.", added Atty. Decena.
TechnoBYAHE brings more opportunities to Bohol
In line with the day's event comes the first face-to-face session of TechnoBYAHE.
Together with the local business community of Bohol, TechnoBYAHE presented the various services and programs of DOST-TAPI to support MSMEs in improving the productivity, profitability, and sustainability of their businesses.
Mr. Matthew Villanueva, campaign head of TechnoBYAHE, says that the event aims to better promote the assistance of DOST-TAPI closer to its stakeholders.
"We're really glad to be able to bring TechnoBYAHE to enterprises here in Bohol in person. We've been doing this virtually since the beginning of 2022, and it feels refreshing to be close to our prospective clients and be able to interact with them up close." Mr. Villanueva said.
"Of course, what we really miss were the stories they shared with us after the talk. That's how we know how passionate our local innovators and entrepreneurs are, and it makes us even more inspired in the work that we do at DOST-TAPI", added Mr. Villanueva.
Opening Forum for the TechnoBYAHE session with the Tagbilaran City MSMEs.
After the presentation, Atty. Decena and Division Chief of the Investment and Business Operations Division of DOST-TAPI, Mr. Romeo M. Javate facilitated the open-forum session. During the session business owners were able to further inquire about the assistance of DOST-TAPI.
Ms. Vina R. Antopina, Director of Bohol PSTC, shared her gratitude for these efforts for the business community of Bohol. According to her, these events bridge the gap between the national and local governments and distribute much-needed assistance to the MSMEs in the provinces.
For his closing remarks, Mr. Javate urged other businesses in Bohol to also avail the assistance of DOST-TAPI. He noted that DOST-TAPI and the PSTO around there are always open to assisting the needs of the local MSMEs.
"Our goal is to build more partnerships with more people like you as you become pillars of your communities," said Mr. Javate.