Details
By: Mirielle V. Vacal
---
The National Archives of the Philippines (NAP) conducted a three-day seminar-workshop on "Establishment of the Records Center and Archival Systems" last 13-15 September 2022 at Hotel Dominique, Tagaytay City.
"Through the activity, I was inspired and motivated to fully-establish a highly-functional storage and records area for the Institute that would be beneficial to our employees as well as our stakeholders." said by Ms. Marissa A. Melosantos, AOV - Records Officer.
She also added: the activity is an eye-opener that great things can be done through a systematic approach in records management, systems development and policy-driven initiatives. The knowledge we learned from the activity will be of great help for our ultimate goal to improve DOST-TAPI's records management system.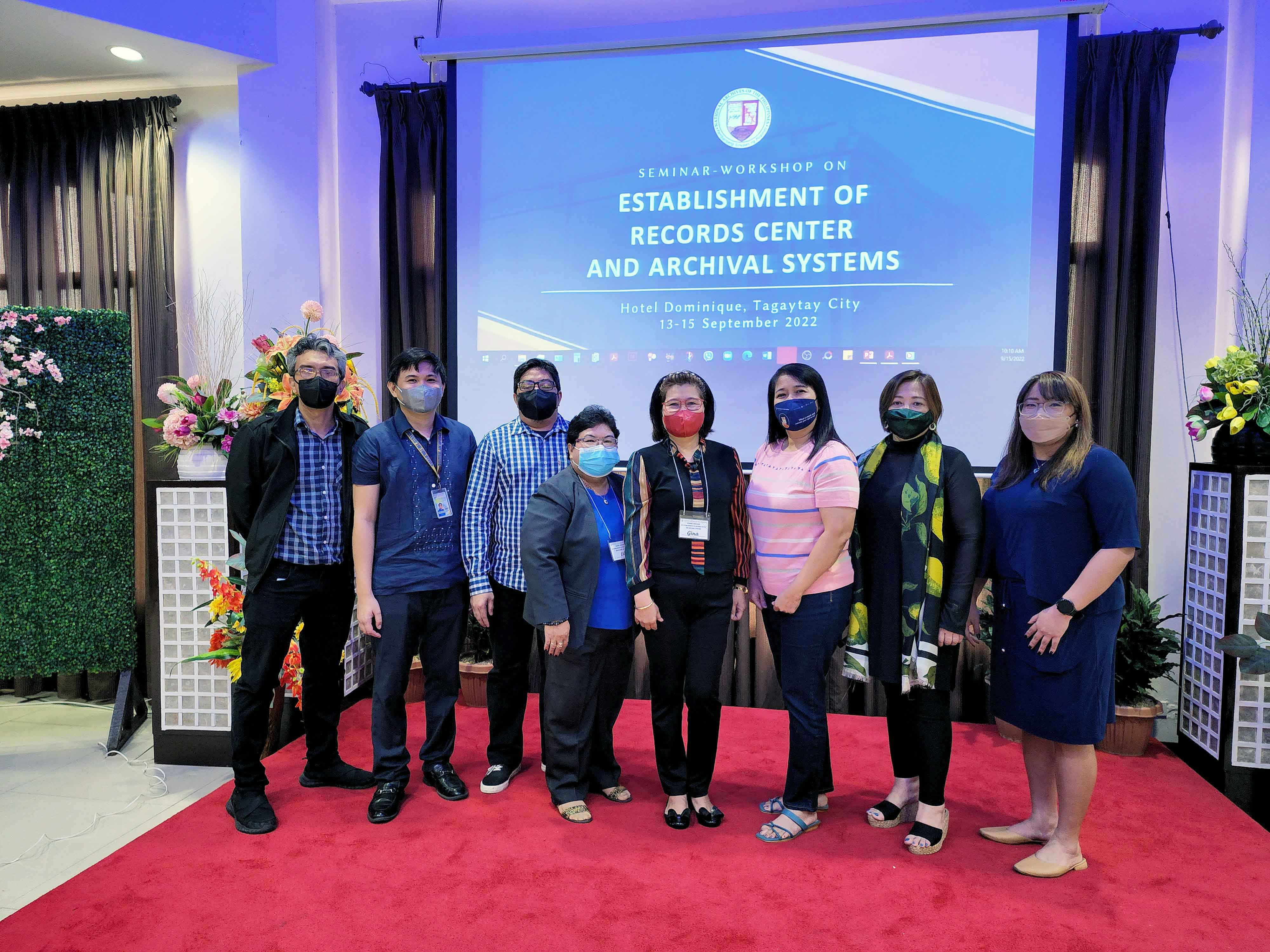 Shown in the photo from left to right: Mr. Amiel T. Pangilinan - Archivist II, Mr. Brixter Joshua D. Caragan - Archivist I, Mr. Von E. Abella - Senior Archivist, Ms. Librada B. Adolfo - Senior Records Management Analyst, Ms. Gina M. Papa - Chief, Training and Information Division, Ms. Marissa A. Melosantos - AOV - Records Officer, DOST – TAPI, Ms. Ma. Teresa A. Pagaragan - Chief, Archives Collection and Access Division, and Ms. Maria Michelle T. Amarillas - Science Research Specialist II, DOST-TAPI.
For more information, please contact 8837 2071 local 2151 or email This email address is being protected from spambots. You need JavaScript enabled to view it..
Details
By: Camille Gonzales
---
Dr. Richmond Santillana invented Nutracapser, a portable home device that can be used to create herbal supplements. For his invention, Dr. Santillana became a beneficiary of the i-TECH Lending Program, which provides financing through the credit-lending partnership between DOST-TAPI and the Land Bank of the Philippines.
Dr. Richmond Santillana never thought he would end up practicing alternative medicine. He graduated with a pre-med degree and his first job out of college was at a Japanese multinational pharmaceutical company. There, he started as product research assistant and then worked his way up to senior product specialist.
After he learned everything there is to know in the industry, he started his own pharmaceutical business.
He was a successful pharmaceutical person. Within a few years of running his own company, his business expanded into four branches. But running a growing pharmaceutical business was not easy.
"Apat na business, so kung kailangan, hindi talaga ako matutulog," he shared.
His late stressful nights eventually took a toll on him, and one day he started feeling sluggish. Speaking became a daunting task and walking more so. He knew then there was something seriously wrong with his body, so he went to a doctor and found out he had heart disease.
Since Dr. Santillana owned a pharmaceutical company, there was no medicine out of reach for him. Cost was not an issue as well, so he tried everything his doctor prescribed him. After more than a year of trying different medicines, not only did he not get well, side effects from the drugs plagued him, too.
Dizziness, headaches, body pains, and tiredness—he felt them all. He believed in his company and its products, but still, his heart was not getting better. He prayed to God to cure his heart and, in return, he would do everything he can to give back. Whichever direction God directs him, he would take it.
"I called it my covenant. I said to God, pagalingin mo ako, and then make use of me kung saan mo ako dalhin."
Feeling desperate, he decided to take a step back and look at other options. Even though being a pharmaceutical man was a big part of him, he was not afraid to explore other options.
"Sa madaling salita, dahil doon na ako sa point na wala nang quality of life, napilitan akong subukan ang alternative medicine."
Dr. Santillana was grateful for alternative medicine's positive effects on his body. Even though he had a family to feed and kids to send to school, he didn't back away from his deal with God. Seeing how his treatment made him feel better, he decided to shift the direction of his career completely. He decided to practice alternative medicine himself.
"Out of gratitude, kahit milyon ang kinikita ko, tinalikuran ko lahat 'yun," he said. "Noong gumaling ako, nag-decide akong isara 'yung pharmaceutical company… Then I decided to study alternative medicine."