Details
Please <click here> to download the document in pdf format
Details
By: Fidel Feria
---
Roderick Nicolas's Alkaline Fuel Cell-Hydrogen Pro-life Solution (AFC-HPS) was first assisted by DOST-TAPI through its Intellectual Property Rights Assistance Program (IPRAP). He was further assisted by the agency through laboratory testing and analyses. Years later, Nicolas applied for DOST-TAPI's Invention-Based Enterprise Development (IBED) Program to further improve the market-readiness of his invention
In the hunt for purpose, only a few are early to strike gold. Musicians, for instance, will pick up an instrument at a young age and find the rest of their lives devoted to the stage. Ambitious teens will shadowbox in front of mirrors until they notice themselves performing these very feats to a captive audience. There are also stories of latecomers—people who lead full lives before happening upon their life's work, but their tales are no less extraordinary.
One such story is that of inventor Roderick Nicolas.
Born in Manila, he relocated with his family to San Pedro, Laguna to continue their successful seafood distribution business. Perhaps as a consequence of running a lucrative business, his family was not particular about academic excellence.
Then a jockish basketball standout, young Roderick preferred having a good time over cracking his books. But doggedly rising above his thrill-seeking nature were his brains. He was an avowed jack of all trades in his classes. It proved his natural talent and an early instinct for innovation.
After finishing high school, he took up a two-year vocational course on computer technology in IETI College Alabang. Thanks to an already formidable work ethic, he found work as a welder as he was completing his studies. Upon graduation, he accepted a full-time job as a spot welder at a local paper mill. Seeing his admirable performance, the company offered him a promotion, but he gently refused as he was setting his sights to work overseas. He left the paper mill after six months.
In 1990, still young but with plenty of real-world experience, Roderick offered to work in his family's business. His parents promptly agreed and entrusted him with major distribution tasks. He would oversee and ride along for deliveries, which went deep into night. His downtime in between his rigorous work proved integral to his life: it was during these hours that his faith in God deepened. In taking in the word of God, he developed an appreciation of knowledge much greater than he would ever have.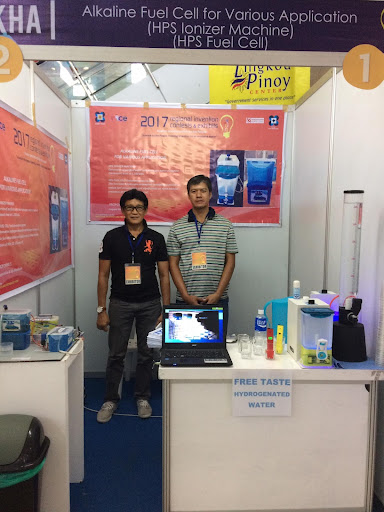 Inv. Nicolas participated in the 2017 National Invention Contests and Exhibits under the LIKHA Award for Best Creative Research Category. (Image source: Roderick Nicolas/Facebook)